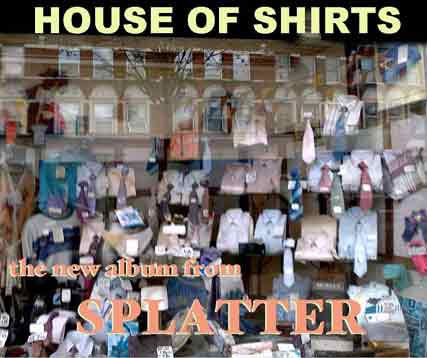 How the famous CD, 'House of Shirts' was found by Ian Bourn in a second-hand shop, This is the transcript of an email exchange that reveals the startling story behind the re-creation of 'House of Shirts' by the Splatter cover band, 'Splatter'.
Bourn:
'Ever heard of this band?
I've heard it's supposed to be their masterpiece, but you try getting hold of a copy! They're like gold dust.'
Taylor:
Amazing band indeed - how did you get hold of a pre-release digitally re-mastered copy of 'House of Shirts'? Or is that really the original 1971 vinyl album that you can sometimes see on Ebay? They say it sounds better on vinyl, but you can't beat polyester.
Bourn:
No, I haven't got the album (God I wish!), just the promotional poster (although I hear even the posters go for a good few bob). The album is famous for their first version of "Collar Studs and Cufflinks" (the fifteen minute version), which I heard on an inferior quality compilation disc.
Taylor:
Yes, but don't you think they were at their best when they went into their post-punk-serialism phase? I mean, 'Drip Dry' is a classic of the genre, brilliantly marrying 2-tone riffs with 12- tone techniques.
Bourn:
Well we all know 'Drip Dry' is a classic, but again someone told me that on House of Shirts there is a version of 'Drip Dry' (what the band refers to as the 'poly-cotton mix') which knocks socks off their original post-punk prototype. What I'd give to get an ear-full of 'House...'. Occasionally odd tracks turn up on compilations or bootlegs. If you come across any of the following let me know:
'Collar Studs and Cufflinks' and 'Drip Dry (the poly-cotton mix)' as mentioned.
'Tip Top Tank Top'
'Boxers and Jockeys'
'Ella in Vyella'
'Cravat Less VAT'
'Elasticated Anthem' (sometimes known as 'Hey Big Suspender')
I suppose you knew that Splatter's first drummer (who left after their first album) went off and formed a splinter group called The Waistband? I'm sure you knew that. If you did and perhaps heard them, I'd like to know what they sounded like.
Taylor:
Yes, 'Studs' is quite a raunchy little number. It became pretty popular in the Berlin Bondage Disco scene. I've always looked on 'House of Shirts' as a concept album. I think the giveaway is the opening track, 'The Shop that Never Opened'. There's a kind of melancholy, almost Dickensian quality to it. Then when you study the cover closely, you can see that all the track titles are actually taken from the labels on the items in the shop window. You start to realise that it's not just a collection of terrible shirt puns, or even as that idiot structuralist critic claimed, ' a deconstruction of the subtext of suburban sexual mores', but - and maybe this is going a bit far - I think it is something more elusive and contradictory: an elegy for the future that never happened.
Anyway, 'Waistband' just recycled the same kind of stuff as Splatter, and I never really rated them.
Taylor:
Ian - if you have any more insights into this album they would be welcome because I hear that a fresh release of 'House of Shirts' may be a distinct possibility. It appears that Splatter recently re-recorded the album, playing all the tracks, note for note, exactly as they were played in the original release. The archivists only had a bootlegged CD-R without the famous cover, and consequently they weren't sure about all the track titles.Any additional titles you know of would be quite useful, although I understand that they may visit the real location of the 'House of Shirts' to discover some additional titles and to look for material to make an updated design of the classic cover.
Bourn:
Splatter doing 'House of Shirts - Revisited' sounds an amazing project. By the way one of the tracks I thought was on the album is now questionable. It seems 'Ella in Vyella' might be from their later follow-up disc 'House of Skirts'. But I was thinking about that one-minute-wonder I've occasionally heard them do at live gigs called 'Hank's Chief', surely that must have originated on the 'House of Shirts' album, or at least from the same period. There is also a track called 'Why the Woollen Mitts?' which I've never heard and know nothing about.

Do you know if the band intend to perform on location (like the 'mop- tops' did at Abbey Road). That would be a coup.
Taylor:
Do you think it could become a place of pilgramage, like the Beetles on the zebra crossing photo?
Bourn:

Yeah. But without the insects and striped horses. More like flattened roadkill on a sleeping policeman.
People will forever say 'When Splatter did the 'men's outfitters', you had to be there to know what it was like man..."
end of transcript.